"You wanna hold hands?" my husband asked.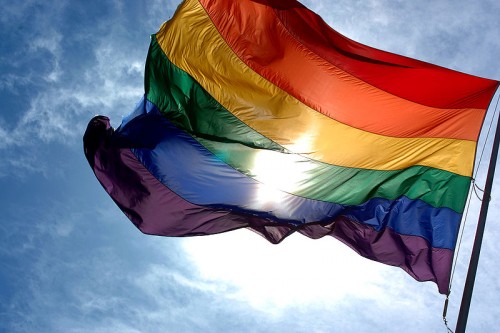 Slats of sunlight breaking through the palm fronds punctuated the shaded path along the beach. A perfect afternoon stroll on vacation in southern California, ahead of us, our son rode his skateboard confidently in and out of people on bikes and joggers. Briny caresses of warm ocean breeze blew around us and we had fallen under its spell.
Caught up in that perfect moment we did. Awkwardly at first, as we tried not to lose the magic of the moment – the warm sun, the perfect ocean breeze, our carefree son and the happiness of being on vacation. But we are older gay men. Holding hands doesn't come naturally to us and we fumbled like anxious teenagers as we nervously looked around to gauge the environment. Is it safe? Is anyone watching us? But we did it. For a full five minutes until our bravery wore off. It felt like an act of rebellion rather than a spontaneous moment of affection. It's a hard habit to break so we second-guess ourselves as we explore the safety of all situations.
In June it was two years since we stood at the front of our local court with our son, a few close family as witnesses and were able to say the words "marriage" as we took our vows. We chose the judge who seven years previously had officiated our civil union ceremony with so much heart that it seemed so right to have him finally be able to marry us. Its been a long journey, with many labels to describe our relationship status but here we were…two men standing in a court of law, repeating our vows in front of our son and family. The court police officer congratulated us and shook our hands as we left the courtroom. How strange it all seemed. A very public declaration of our love and our commitment to continue giving the best of ourselves to each other.
June is also Pride month and we have our own celebration in the community we live in. This year our celebration came to a shocking halt when we woke to the news on a Sunday morning of the killing of 49 latinx men and women at a gay club in Orlando. My husband and I sat in silence as we listened to the details of the horror that unfolded within the walls of the Pulse nightclub.
"Why aren't people calling this a hate crime?" we kept saying. We spoke to our son about the attack and how we were feeling and how it brought up feelings of our community being attacked. As the day wore on and politicians and media commentators kept using words like "terrorism" our anger rose. And so did the anger of many others in our LGBTQ community. Suddenly we felt all the progress we'd made slipping away into the yawning chasm of homophobia.
Days passed as we saw the faces of the victims, young men and women – a mother who was out dancing with her gay son – just people enjoying the freedom to have fun and be themselves inside a nightclub. As the days passed I kept finding myself filled with grief and outraged at the attack on us, on our queer family. For all of us our gay clubs are sacred space, our temples where we celebrate our lives in safety and community.  When I was a young man still in high school, just coming out only to a few of my friends, I lived for the weekends and the sanctuary that gay clubs provided. A safe space to meet other young people where we gathered together in the only place where we could just be ourselves. No judgment and most of all no fear. The only place where my defenses could be down and I was truly free to relax and explore what it meant to be me.
Realizing as a young teenager that I was attracted to other boys had created so much internal struggle, so much self-doubt and my self-esteem suffered enormously. I just wanted to be like my friends and fit in but try as I could it wasn't to be. Now as I was venturing out onto the gay scene, I discovered a larger world of young gays and lesbians like myself but who were also different in the ways we expressed our individuality. Being homosexual was just one aspect of a much larger self and having the safety of those clubs freed me to explore other aspects of myself and how I chose to express that.
Days after the Orlando massacre we attended a candlelight vigil where our township committee, leaders of the various faith communities and organizers of our local Pride organization spoke out against the horror of the attack. We heard these people protesting against the attack on the LGBT community, these friends and neighbors stood with us as together we declared "Enough!"